Canyon Sales has been the exclusive northeast sales arm for GPOD of Idaho for over 30 years. In August, 2019, the company was acquired by produce industry veteran Louis Getzelman. His son Lou Getzelman joined him in January, and longtime Canyon Sales employee Mike Vallario remained with the company. Louis brings over 40 years of produce experience to the business, and Lou previously worked in commodity trading. The Getzelman family continues the company's legacy, marketing premium quality potatoes, packed and shipped exclusively from GPOD of Idaho. The GPOD of Idaho potato program is year-round with a brief maintenance shutdown period from mid-August to mid-September. Lou Getzelman says, "Our core business is GPOD potatoes, but we also represent some of the finest onion growers in the U.S. Our product o ering also includes colored potatoes and fresh carrots. We focus on the New York market and tristate area, but we do ship to receivers all over the country."

Canyon Sales offers a key advantage by being the "boots on the ground" for
GPOD and its other shipping relationships. "We're able to see the product when it arrives," says Getzelman. "We know what's going on in the market in terms of pricing and demand as well as how our product compares to the competition. Other brokers may work remotely to sell potatoes in New York while never seeing the product they're selling. Quality control is important, so we physically go through every package we receive. Having our eyes on the product gives us credibility in the eyes of the receiver and the shipper, and we pride ourselves on being fair traders."
The Canyon Sales year-round colored potato program moves from region to region with the change of season, pulling from the best shippers in Florida, California, Minnesota, North Dakota and Washington. Canyon Sales partners with growers in California for onions during the summer. The winter onion program runs out of Idaho and eastern Oregon. "We ship onions every day of the year," says Getzelman. The company also partners with Dorat Farms for its fresh Israeli carrots.
Getzelman is excited for GPOD's potato crop this year as the weather has been very conducive to a good harvest. "The potatoes coming out of the field now look excellent," he adds. Shipping has become more challenging during the pandemic, and the need for fast, reliable options is greater than ever. Canyon Sales has been focused on finding new and creative ways to get product to customers in a quick, cost effective manner. "We've partnered with numerous freight carriers, and we ship via rail and truck so our customers receive their product fast and fresh," says Getzelman.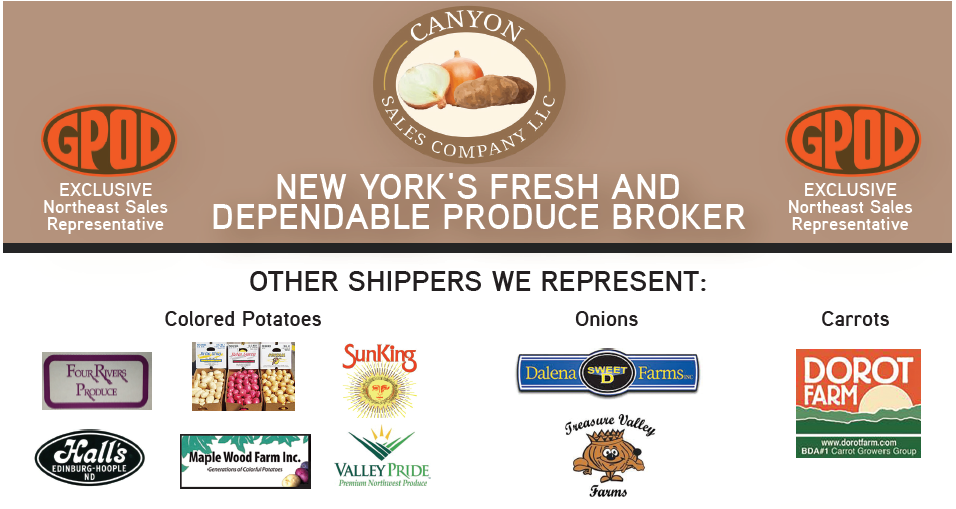 Email: [email protected]