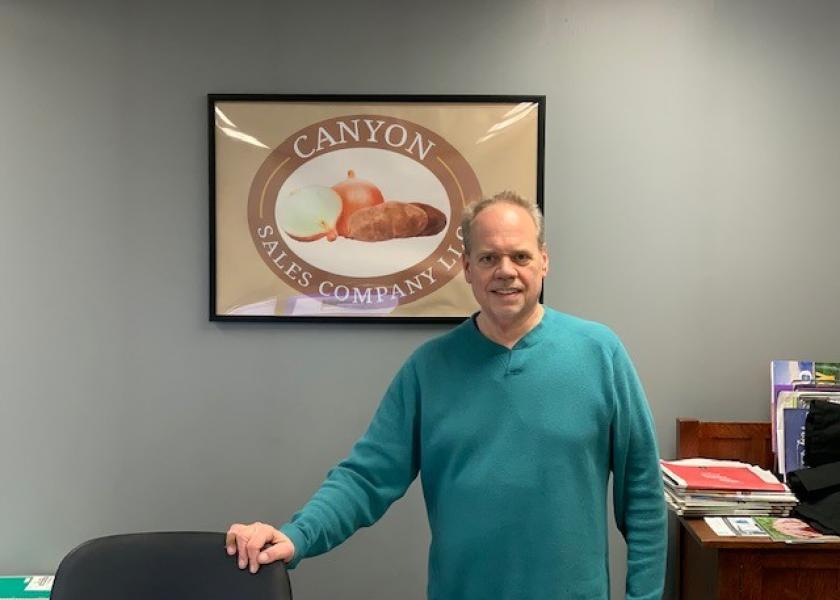 Companies run by father and son are like pairing meat and potatoes: classic.
Canyon Sales Co., at Hunts Point Produce Market in Bronx, N.Y., still reflects this tradition despite a change of hands.
In August, Louis Getzelman Sr. took over as president and owner of the company that markets GPOD Potatoes of Idaho to New York and New Jersey customers. Last month, his son, Lou Jr., left the Wall Street world of energy commodity trading to join his dad.
"When the opportunity presented itself to step into the role at Canyon Sales, it was a really good fit because he was already loyal to GPOD," Lou said of his father.
The produce brokerage firm — which also markets onions, carrots and yams — was established by Al Mattie and his son, Paul Mattie, in 1989. Paul kept it going after his father reached his 90s and stepped back, and then passed away in 2018.
"My dad did business with Paul for many years. My dad was a big buyer of GPOD," Lou Getzelman Jr. said.

Louis Getzelman Sr. started in the produce industry 46 years ago, opening Cross Island Farmers Market. Two years later, he began a career at Hunts Point Produce Market with Tomatoes Inc. Louis later opened and ran the potato and onion houses at Morris Okun Inc., D'Arrigo New York and most recently, E. Armata Inc.
"I've been buying and selling produce my entire life, it's what I am, and it's what I know," the elder Louis said in a news release.
To kick off 2020, the Getzelman-led company is conducting a store display contest with GPOD of Idaho to generate buzz in the Northeast around Idaho Potato Lovers Month (February), which is run by the Idaho Potato Commission.

"We wanted to piggyback on that, but make it specific to GPOD potatoes," he said.
From Feb. 1 to March 31, the contest will award $1,000 in cash prizes to the best Northeast retail store displays featuring 5- and 10-pound bags and cartons of GPOD of Idaho potatoes. Email photos to [email protected] and visit canyonsalescompanyllc.com for details.
Related news: